THE OFFICIAL CONTENT GUIDE
Use one or more of our vetted, researched facts to create your content.
Theme 1: Because of winner-take-all, presidential elections have become battles for a handful of swing states, and the candidates/elected presidents focus on swing-state voters almost exclusively.
Theme 2: Winner-take-all allows presidential candidates who lost in the national popular vote to win the election.
Two of the last three presidents took office after losing the national popular vote. (Source: The American Presidency Project)

A candidate could technically win the presidency with only 23% of the popular vote. (Source:

NPR

)

Over 30% of presidential elections in the next century could involve the winner of the electoral college losing the popular vote. (Source:

Bakhavachalam and Fuentes

)
Theme 3: Candidates need to raise a lot of money to win races. They raise most of the money from the rich and special interest, and focus exclusively on their needs.
Theme 4: Corporations spend enormous amounts on lobbying, drowning out the voices of union and public-interest groups and assert outsize influence in the legislative process.
The number of firms with registered lobbyists in Washington increased fourteen-fold, from 175 in 1971 to 2,445 in 1982. (Source:

The Business of America Is Lobbying

)

Annual inflation-adjusted corporate spending on lobbyists almost doubled, to more than $2 billion, between 1998 and 2010. (Source:

The Business of America Is Lobbying

)

In 2012, about half of retiring members of Congress became lobbyists. In the early 1970s, this number was 3 percent. (Source:

Dollarocracy

)
Theme 5: Voter suppression efforts are politically motivated, and played a role in determining the 2016 elections.
Paul Weyrich, the founder of ALEC, an organization that has peddled voter suppression laws, has expressed anti-democratic views

: "I don't want everybody to vote. Elections are not won by a majority of people. They never have been from the beginning of our country, and they are not now . . . our leverage in the elections quite candidly goes up as the voting populace goes down." (Source:

Right Wing Watch

)

A 2006 Justice Department study found a voter-fraud rate of 0.00000013 percent, making the incidence of voter fraud less frequent than humans being struck by lightning. (Source:

The Brennan Center

)

In the swing state of Wisconsin, Donald Trump won by twenty-three thousand votes. A federal court found that there were three hundred thousand registered voters that lacked required voter IDs. (Source:

The Nation

)
Theme 6: Voter suppression takes the form of stringent voter ID provisions or lack of voting access, suppressing tens of millions of votes and especially affecting minority voters.
Theme 7: Because of gerrymandering, a party could get a minority share of popular vote, yet win a majority of seats.
Theme 8: In order to maximize their chances of winning elections, political parties choose voters they want to include in their districts and that has resulted in really weirdly shaped district maps.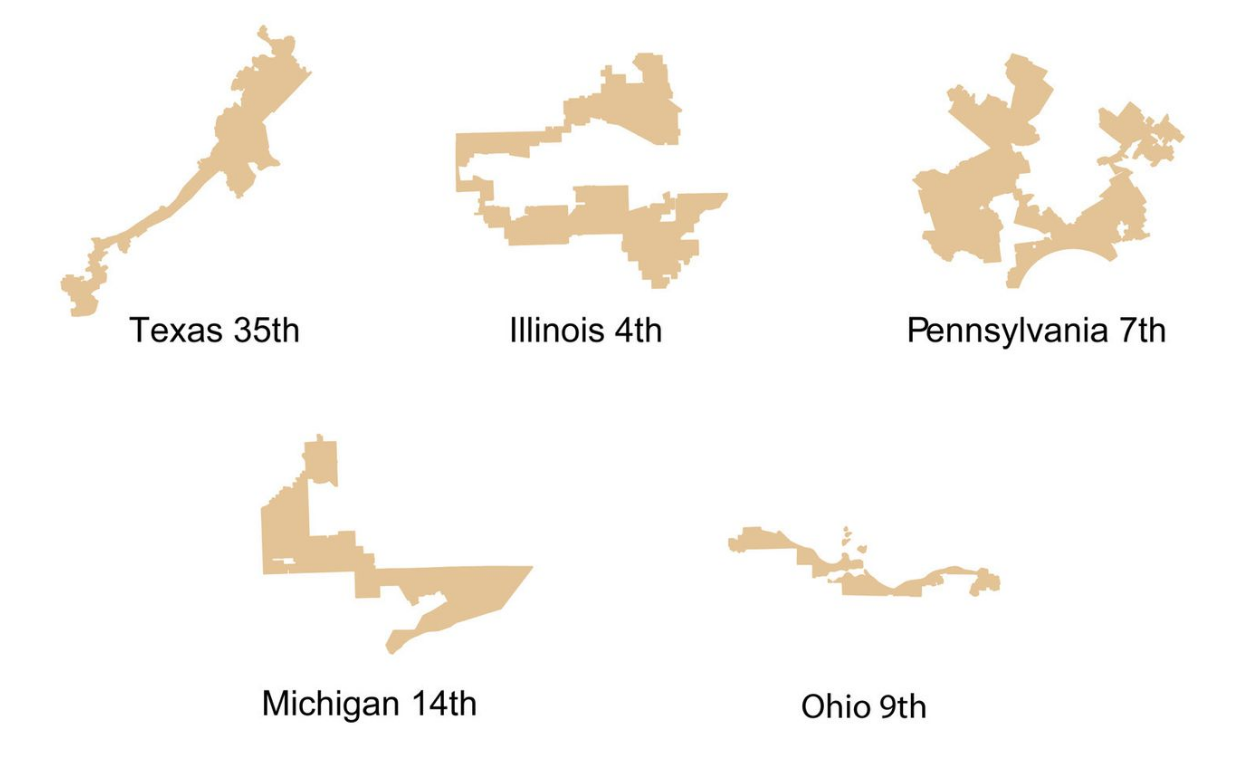 AN EQUAL CITIZENS PROJECT