Deval Patrick is a POTUS1 candidate. Scroll down for his detailed policy positions.
Did this candidate or his staff already get back to you?
Let us know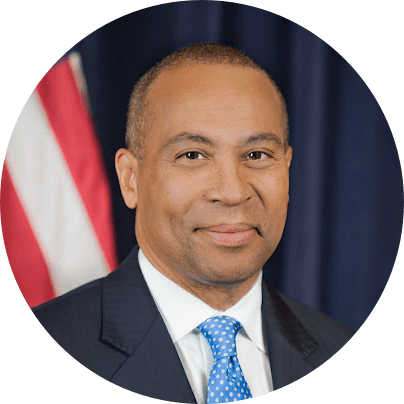 Grading Methodology
A+: comprehensive democracy plan with impressive public financing plan, promise to fix democracy first
A: comprehensive democracy plan with a strong policy in each category
B: notable proposals but overall plan lacks depth regarding scope and/or implementation
C: few democracy reform proposals, campaign makes infrequent mentions of reform
D: no meaningful democracy plan
F: active opponent of democracy
Candidate Policy Positions
Everyone's Vote Should Count (Equally)
Abolish the Electoral College
End gerrymandering through independent redistricting commissions

Statehood for D.C. and Puerto Rico

Replace old election machines and conduct risk-limiting audits
Ranked choice voting experimentation
Protect the census
Voting Rights
Automatic voter registration
Incentivize states to implement pro-democracy policies
End felon disenfranchisement post-sentence
Restore the Voting Rights Act
Early voting
Pre-registration for 16 year olds
Election Day holiday
Support transgender voting
Enforce provisions of the Higher Education Act requiring higher education institutions to develop plans to promote student voting.
Make Overseas and Military Voting Easier
Limits on voter purges
Money in Politics
Public financing matching system (8-to-1_
Democracy vouchers trial
DISCLOSE Act
Overturn Buckley v. Valeo and Citizens United v. FEC
Fix public financing for presidential elections

Revitalize the Federal Election Commission

Stricter Super PAC enforcement and ban Leadership PACs for most congresspeople

Reform the Federal Election Commission

Ban Lobbyists From Regulating Their Own Industries.
Strengthen Lobbyist Disclosure
Ban Foreign Governments From Registering Lobbyists
Candidate Overview
Patrick has pledged to fix democracy first!
Though a late entry in the race, Patrick quickly jumped to the front of the pack with a strong reform platform.  He supports a hybrid public financing system and robust policies to address voter suppression. Patrick moreover has interesting ideas for national service.
Click here to see his full democracy reform platform. To watch his town hall with us, click here. 
Here are some policies he could adopt to improve his platform:
A full end to felon disenfranchisement
Clarify which voting reforms would be federally binding
If you want to see Deval Patrick embrace these policies, check the bottom of the page for his staffers' contact information.
Upcoming Events
More soon.
Contact the Candidate's Staffers
Sometimes the best way to reach the candidate is to work with the candidate's staff, who serve as eyes and ears on the ground.
Did this candidate get back to you?
Please describe the response below