RANKED CHOICE VOTING IN PRESIDENTIAL ELECTIONS
END THE SPOILER EFFECT ONCE AND FOR ALL
The ability to vote for a candidate who can represent you best is an essential part of a democracy. Yet, because of the two-party system in America, third party candidates are too often "spoilers," not choices. Voters who favor a third-party candidate face a dilemma: vote for the candidates they prefer, but help elect the candidate they like the least, or vote for the "lesser of two evils".
This is a wholly unnecessary problem for a 21st century democracy.
Equal Citizens is gearing up to launch a campaign to adopt ranked choice voting for the New Hampshire presidential primaries and for the presidential general election in battleground states.
Stay tuned for more details.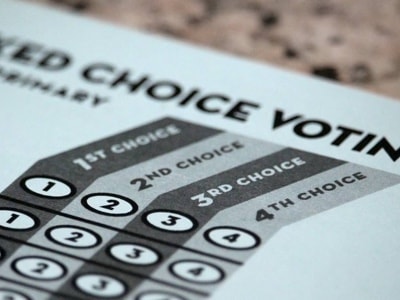 FOR IMMEDIATE RELEASE Date: November 19, 208 Contact: Blair Fitzgibbon (202) 503-6141 [email protected] EqualCitizens.US Announces National Ranked-Choice Voting Effort for 2020 Election On the heels of Maine electing the first ever US Congress Member using...

Except where otherwise noted, content on this site is licensed under a Creative Commons Attribution 4.0 International license. This website is shared by EqualCitizens.US and Equal Citizens Foundation. Equal Citizens Foundation is not responsible for any political content on this website. Read our Privacy Policy here.